Tile Refinishing by NuFinishPro

NuFinishPro tile refinishing makes your tile look new again.
We can restore your tile to a like-new condition, and for a fraction of the replacement cost. Our company resurfaces many different types of tile surfaces including ceramic, glass, mosaic, porcelain, stone, tile backsplashes, countertops, walls, and much more.
Our Tile Refinishing Process:
Thoroughly mask off the work area with low-adhesive tape and masking paper.
Replace any loose or missing grout.
Aggressively clean the surface and grout lines.
Completely dry the surface.
Make all necessary repairs to the tile and grout.
Thoroughly sand down all surfaces and grout lines.
Apply our bonding agent to the surface.
Spray on multiple topcoats of finish in the color you select.
Clean up the work area—we leave it cleaner than we found it!
Not only do we remove the masking paper and tape, but we haul away our trash. Our same-day tile refinishing process takes 6 to 8 hours to complete.
Your "like new" tile will be dry and ready for use 24 hours after completion.
Our work comes with a 5-year warranty.
Call NuFinishPro today for your estimate or email [email protected]
NuFinishPro can refinish (re-glaze/resurface) your bathroom and kitchen tile for a fraction of the replacement cost.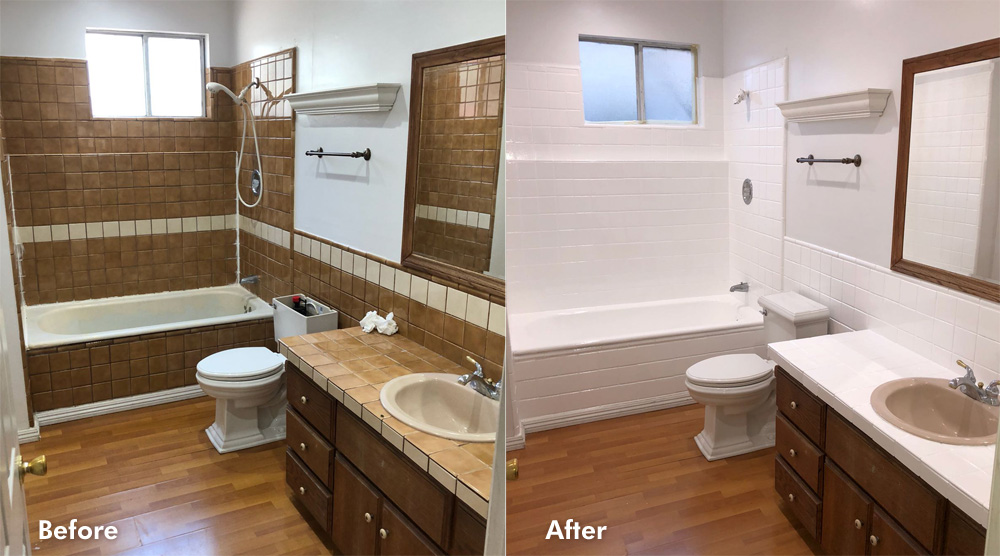 For a free estimate, call us toll-free at 855-664-1151
(All visits by appointment only.)
You can also click here to request a free quote online.
Frequently Asked Questions
Custom colors and refinishing products used.
Tile refinishing is also known as tile resurfacing, tile re-glazing, tile repair, tile restoration, or tile painting.
What are my color customization options with NuFinishPro?
We can color match any solid color in a Benjamin Moore or Sherwin Williams paint deck. On top of that, we carry a variety of colors that simulate the look of granite. Update your kitchen or bathroom for a fraction of the replacement cost with a 5-year refinishing warranty!
What other areas of my home can be refinished by NuFinishPro?
NuFinishPro can refinish your bathtub, countertop, shower, sink, or tile surfaces.
What refinishing products do you use?
NuFinishPro uses premium products for our refinishing work. The products we use are FDA certified and non-toxic once cured. While most of our competitors buy the cheapest products available, NuFinishPro buys the best on the market—which is why we can offer you a 5-year warranty on the work that we do.
Warranty and other information
How does your warranty work?
The first thing we'd like to say is that a warranty is only as good as the company standing behind it. NuFinishPro has been in the tile refinishing business since 1987. Let us put our decades of experience to work for you. We cover our labor and material for a full 5 years. Our warranty does not cover accidental damage or failure to follow care and maintenance instructions.
Is NuFinishPro licensed, bonded, and insured?
Absolutely! We are registered with the state of California and our contractor's license number is 1059225.
Why should I choose NuFinishPro?
We have been in the bathtub refinishing business since 1987. We're highly rated on Yelp, Home Advisor, Angie's List, the Better Business Bureau, Google, Facebook, and more. You won't find a negative review about NuFinishPro anywhere on the Internet. The reason for that is simple: we offer 5-star service to each and every customer we have the privilege of serving.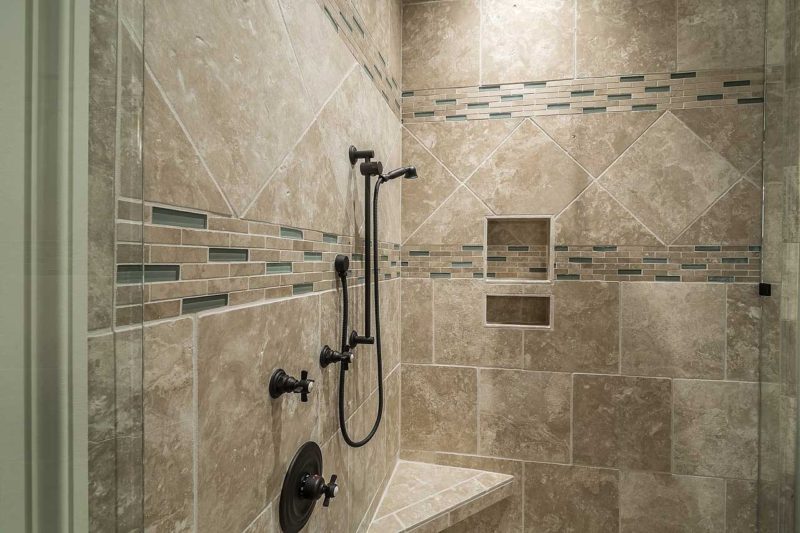 Tile Refinishing Information
Why choose NuFinishPro?
If you want to have your tile resurfaced the right way the first time, give us a call! We guarantee you'll love the updated look and feel of your tile as much as you'll be thrilled with the up to 75% savings over replacement cost.
Is tile refinishing messy?
That depends on who you select to refinish your tile! NuFinishPro carefully masks off the work area to protect your home or business. We clean up during and after the job as well, to make sure that after we leave, the work area looks as good as it did when we arrived.
What does NuFinishPro charge for tile refinishing?
Every project is different. The price depends on the size and condition of your bathtub, the color you desire, whether or not your bathtub has been previously refinished, etc. Call us for a free estimate or email [email protected]
What is the expected lifespan of a tile refinishing project by NuFinishPro?
The minimum life expectancy of a refinished surface by NuFinishPro is 5 to 10 years. That being said, if you follow your care and maintenance instructions properly, you can receive up to 25 years of service. The lifespan of each project varies based on the condition of the tile and how often it is cleaned.
Or call us at
(855) 664-1151
Ready for an Estimate? Get a Quote from Our Experts: