NuFinishPro Bathroom Refinishing Services
Refinishing Can Make Bathrooms Look Like New Again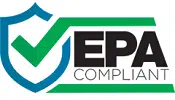 Restoring with bathroom refinishing for your old vanity, shower enclosure, bathtub, or sink is a great way to save money by making your bathroom look sparkling new again. We'll refinish any of your surfaces, whether they are made of Formica, marble, or tile. Bathroom refinishing can make your fiberglass, plastic, steel, cast iron, or acrylic bathtub and shower enclosures look even better than before.
NuFinishPro will repair or even add a new cement foundation to your bathtub for extra support; we can patch your fiberglass shower, chemically clean your bathtub, and fix rust damage. Our refinishers can even refinish your old bathroom tile countertop or tile walls with a granite-like finish* to give your bathroom vanity a sophisticated new look.
If you want, we can give you a free estimate on how much it will cost to refinish your bathroom, all you have to do is provide us with a few photos and give us a description of the work needed.
*Cliff, Granite and White Vein are in stock. All other colors must be specially ordered. Minimum charge of $250.00.
Click on an image to view a larger version.
Refinishing Surface Color Customization
Check out our wide selection of Granite-like finishes for your tiles, countertop, vanity, and other surfaces. We can apply the finishes as we do the work of resurfacing your kitchen or bathroom tiles, countertops, and vanity. Our company has a wide selection of colors, textures, and patterns for you to choose from, have a look at our selection below. Please contact us to let us know which pattern you want us to use or ask us for more information.