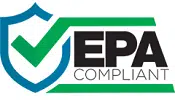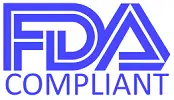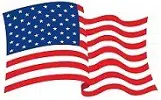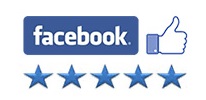 Bathtub Refinishing Benefits
Refinishing your bathtub is a great way to help make your old bathtub look like-new again, and help you save some money at the same time. We can make your bathtub look like new again whether it's acrylic, cast iron, cultured marble, fiberglass, porcelain, or other material. We make tub repairs to your bathtub with a spot repair to fix cracks, holes, rust and other damage. NuFinishPro can even install a Safety Step in your bathtub allowing you to bathe and shower normally. Let us help you save up to 75% to 90% versus the cost of replacing your old bathtub by refinishing it.
Our bathtub refinishing process:
First, we will thoroughly mask off the work area with tape and masking paper.
Previously applied finishes will Hand-strip from the bathtub.
Aggressively clean the bathtub surface.
Completely dry the bathtub surface.
Make all necessary repairs to the bathtub surface.
Thoroughly sand down the bathtub surface.
Apply our bonding agent to the bathtub surface.
Spray on multiple top coats of finish in the color you select.
Clean up the bathroom work area, so we leave it cleaner than we found it.
Not only do we remove the masking paper and tape, then we will haul away our trash.
Our same-day bathtub refinishing process takes 4-6 hours to complete.
Your refinished bathtub will be ready for use 24 hours once the finish has been completely set.
This bathtub refinishing project will come with a 5-year warranty.
Call NuFinishPro today for your bathtub refinishing estimate or send us an email.
NuFinishPro can refinish your bathtub; remove the rust, repair the crack, chips, and holes with a spot repair. Plus, our company can refinish your bathroom tile along with the bathtub itself. Does your bathtub floor sound hollow and feel unsupported? NuFinishPro can add a new cement foundation to the floor of your bathtub to provide more support for your bathtub to bathe and shower.
Bathtub Refinishing FAQ:
Is bathtub refinishing messy?
Well, that depends on who you hire to refinish your bathtub! NuFinishPro will protect the other areas of your bathroom by carefully masks off the work area to protect your home or business. After the job is done, and make sure the work area looks as good after we are gone as it did when we arrived.
What does NuFinishPro charge for bathtub refinishing?
Every project is different. The price depends on the amount of work we need to do, the condition of your bathtub, the size of your bathtub, and the color you desire. Other things include, any previous work done on the bathtub, or were there any past repairs made. Call us for a free estimate or email us.
What is the expected lifespan of a bathtub refinishing project by NuFinishPro?
The newly applied finish on the bathtub will last 5 to 10 years. The amount of daily use, wear, and tear will affect the life of the newly applied finish.
More Bathtub Refinishing Questions
Bathtub refinishing is also known as.
Bathtub resurfacing, bathtub re-glazing, bathtub repair, bathtub restoration, or bathtub painting. All of these terms refer to the same method of restoring your bathtub.
What are my color customization options with NuFinishPro?
We can color match any solid color in the Benjamin Moore or the Sherwin Williams paint decks. NuFinishPro also carries a wide variety of granite-like finishes that simulate the look of granite.
What other areas of my home can be refinished by NuFinishPro?
NuFinishPro offers refinishing services for your bathtub, countertop, shower, sink, and tiles.
How does your bathtub refinishing warranty work?
A warranty is only as good as the company standing behind it. NuFinishPro has been in the bathtub refinishing business since 1987. Let us put our over 3 decades of experience to work for you. We cover our labor and material for a full 5-years for residential work and a 3-year warranty for commercial projects. Our warranty does not cover accidental damage or failure to follow care and maintenance instructions.
What types of bathtubs can be refinished?
We can refinish built-in bathtubs, corner bathtubs, clawfoot bathtubs, drop-in bathtubs, garden bathtubs, Jacuzzi bathtubs, walk-in bathtubs, whirlpool bathtubs, etc.
Has NuFinishPro been licensed, bonded, and insured?
Absolutely! We are registered with the state of California and our contractors' license # is 1059225. We carry five million dollars' worth of liability insurance with Country Financial.
Saves 75% – 90% on the costs
Bathtub refinishing is a great way to restore your existing bathtub so that it looks like new again. Whether your bathtub is porcelain, fiberglass, acrylic, cast iron, marble, or other material, we will improve your old bathtub's appearance. You can also save up to 75% to 90% over what it would cost to replace your old bathtub by remodeling the bathroom bathe and shower.
NuFinishPro provides other services like patching your bathtub floor or sidewall. Later, a plumbers cutout patch can be applied to repair any damage to the bathroom walls after any repairs are made. Our refinishers can strip off your old or defective coating, chemically clean your bathtub, then we can refinish the bathtub. NuFinishPro can even add a drain liner or a non-skid surface to the bathtub floor.
Our company can refinish your bathtub, remove rust, spot repair the cracks, chips, and holes, and refinish the tiles in your bathroom. Does your bathtub floor sound hollow and feel unsupported? We can add a new cement foundation to the floor of your bathtub to provide more support.
We are eco-friendly
At NuFinishPro we do our best to be as eco-friendly as possible. Reconstruction generated a lot of construction waste with over 50% going into our landfills. Refinishing reduces the amount of construction waste that is generated since it creates so little waste when you compare it to reconstruction. We use refinishing products that are certified as non-toxic and eco-friendly.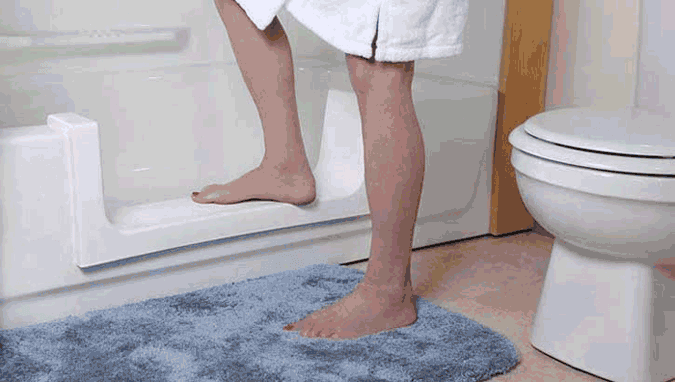 Are you looking to improve safety in your bathroom? NuFinishPro can do a CleanCut Safety Step conversion for your existing bathtub for safer and easier access to your bathtub to bathe and shower. The safety step conversion will lower the sidewall of the bathtub to allow walk-in, disabled, and handicapped access into the bathtub. There is no better way to offer handicap access than with a safe step-in tub.
The following models are available for you to choose from.
The side door option allows step-in access to your bathtub, providing you with a watertight door that allows you to take a bath.
The "low" safety step-style offers step-in access for high-profile tubs.
The "convertible" provides a removable sidewall for your bathtub so that you can step in to use the shower or fill up the bathtub to take a bath.
The addition of handicap access to your bathtub can provide you with safer and easier disabled access to your bathtub.