Non-Slip Bath Surfaces for Hotels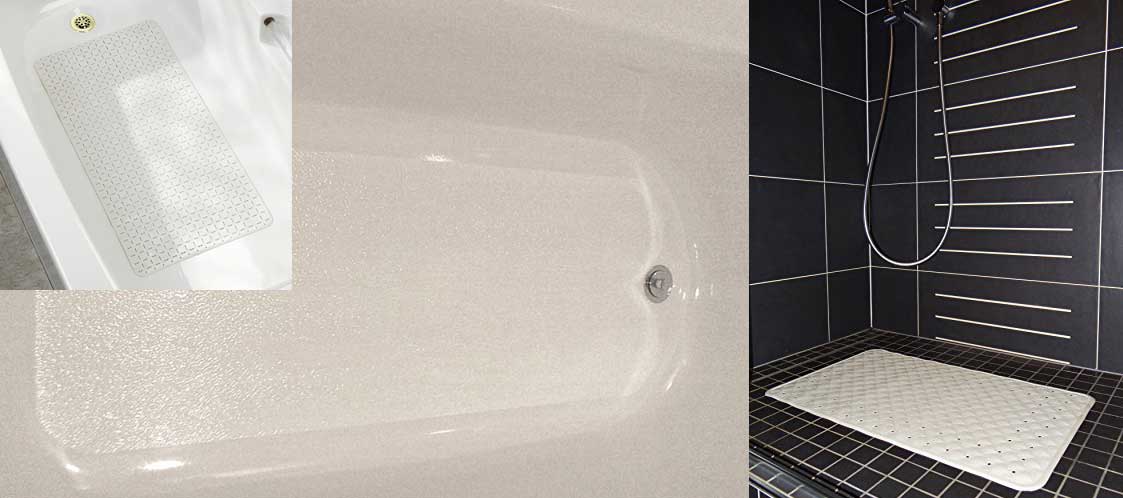 About Our Non-Slip Solution
Falling and slipping in showers or bathtubs are leading causes for injuries, and they entail costly insurance claims. Many incidents occur due to worn-out or grimy shower or bathtub surfaces. During the lifetime of a bathtub, non-slip coatings will become ineffective through grime, dirt, and body oil build-up. Cleaners and disinfectants will also wear down safety patterns on tubs and shower floors.
NuFinishPro's non-slip solution is a great way to reduce the chances of falls on wet bathroom surfaces. At the time of bathroom refinishing or repair, a non-slip solution can easily be added.
Improve the look of tubs and showers while protecting your guests from slipping or falling. NuFinishPro's non-slip solution leaves bathroom surfaces clean and safer for hotel guests to use over and over. Our technicians are trained to apply a non-slip solution meticulously and correctly without disrupting business or displacing hotel guests for long periods of time.
A Safe and Effective Non-Slip Solution
NuFinishPro's non-slip solution offers fast and effective solutions. The non-slip solution can be completed quickly, without disturbing guests, and without interfering with staff duties.
NuFinishPro is available to schedule work around your schedule.
NuFinishPro technicians will remove the old coating, deep clean the bottom of the tub with a deep cleaning solution, and mask off the work area
The non-slip solution is applied to the bottom of the tub or shower and allowed to set
A final cleaning of the surface is conducted
NuFinishPro provides instructions to hotel staff on care for the non-slip solutions
Little to No Downtime
NuFinishPro technicians are trained to apply the non-slip solution meticulously and professionally with little business disruption. We coordinate with engineering and maintenance departments to complete all work while rooms are not occupied. NuFinishPro understands that a hotel typically can't have any room down for more than 24 hours at a given time. Upon work completion and setting period, rooms are odor-free and ready for use.
About NuFinishPro
NuFinishPro has been refinishing bathrooms and showers since 1987. We are eager to give your hotel bathrooms a makeover. Since 50% of all the landfill waste originates from the construction industry, NuFinishPro will help in offering eco-friendly solutions and reducing carbon footprints during refinishing. The NuFinishPro process is the eco-friendliest solution for bathtub, shower pan, and shower or bath stall repair and restoration. Additionally, this process will improve the safety of your bathtubs and showers if the non-slip solution is added.
Let NuFinishPro refinish, resurface, or re-glaze your bathtubs and showers. We guarantee our work and your satisfaction.
Have a Question?
Call Us Toll-Free:
(855) 664-1151
Monday-Friday: 9AM – 6PM
Saturday: 9AM – 1PM
Sunday: Closed
We Have Locations Throughout
California and Texas!
Get a Free Estimate