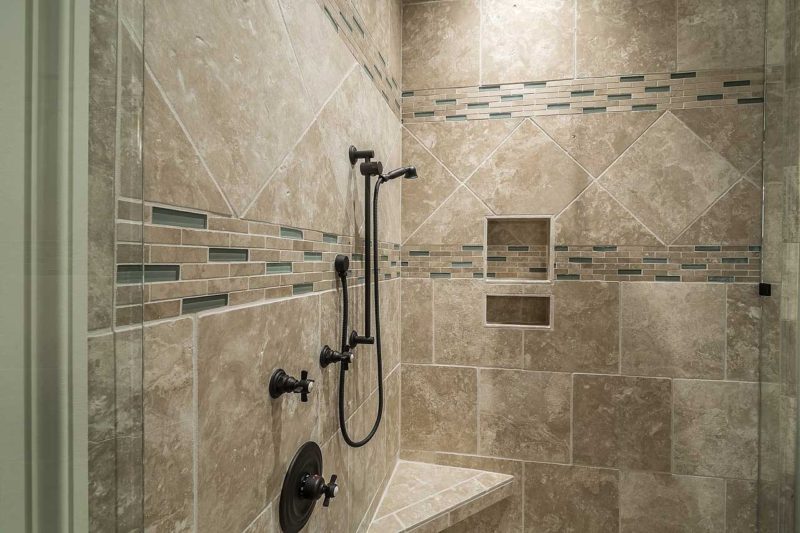 Tile Painting in California By NuFinishPro
Don't paint your tile, refinish your tile. Refinished tile will last longer and look better!
Our refinishing coating is better than paint, it's water resistant so moisture beads up and rolls off.
All Tile Refinishing projects by NuFinishPro come with a full 5-year tile refinishing warranty.
Our finishes are professionally sprayed on which is why they look like factory finishes.
Once your tile is refinished you'll never have to worry about cleaning your grout again!
We carefully mask off the work area to protect your home or business.
We clean up the work area after we're done with your Tile Refinishing project so you don't have to.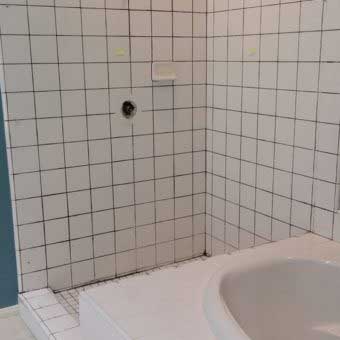 Tile Painting in San Diego Before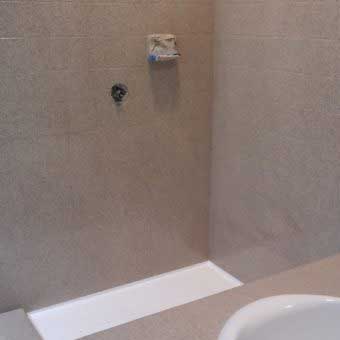 Tile Painting in San Diego After (Faux Granite Look)
We can refinish your tile in over 5,000 solid colors, or we can refinish it in our Faux Granite colors pictured below.
We're licensed and insured for your protection. Our CA License # is 983649 click here to verify our status.
Our owner Brett Davis has been in the refinishing business in California since 1987.
Our Tile Refinishing Process:
Thoroughly mask off the work area.
Remove all hardware from your tile.
Remove existing finish from tile (only if previously painted or finished).
Aggressively clean the tile surface.
Make all necessary repairs to the tile surface.
Mechanically sand tile surface.
Apply a bonding agent to the tile surface.
Spray on multiple coats of primer.
Spray on multiple top coats of finish in the color you select.
Clean up work area and remove masking paper.
Reinstall your tile hardware.
Depending on the size of your project it will take 1-2 days to complete.
Your tile will be dry & ready for in 4 hours.
This project will be covered by our 5-year warranty.
Call us for a Tile Refinishing quote over the phone at (323) 484-2127
Email us a picture and measurements for an e-quote to [email protected]
---
Frequently Asked Questions About Tile Refinishing in Los Angeles
What is your service area?
We serve all of Los Angeles.
What else do they call Tile Refinishing?
Tile Refinishing is also known as Tile Reglazing, Tile Resurfacing, Tile Painting, Tile Restoration, Etc.
What if my Tile is chipped or cracked, can it still be refinished?
Absolutely we can repair chipped tile, cracked tile, discolored tile, worn or dull tile, etc. We can remove rust, mold, and mildew from your tile as well.
What if some of my tiles are missing?
We can find similar sized tile and make the repair for you. Once all of your tile is refinished you'll never be able to tell where the old tile stops and the new tile begins.
Can you change the color of my tile?
We have over 5,000 solid colors to choose from and a variety of faux granite colors are available as well. You can update the look of your tile while saving thousands vs replacement cost.
How long does Tile Refinishing last?
That depends on who you hire. Here at NuFinishPro, we specialize in refinishing tile the right way the first time. Don't take a chance on an unlicensed or unethical contractor. Our owner Brett Davis has been in the refinishing business since 1987. All of our tile refinishing projects come with a 5-year warranty. But Tile Refinishing should last 5-10 years minimum. If you follow the care and maintenance instructions it can last much longer.
Is Refinished Tile easy to clean?
Yes, refinished tile is easier to clean. You can use everyday cleaning products like Scrubbing Bubbles, Mr. Clean, or dish soap like Dawn and Ivory to clean your refinished tile. Once the refinishing process is complete your grout becomes maintenance free!