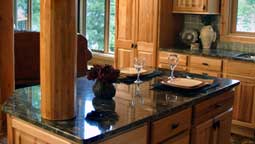 Custom Stone-Like Color Options for Countertop Refinishing
Kitchen countertops and bathroom sink vanities undergo wear and tear over the years. Typical damages include scratches, chips, and unsightly buildup of mold and mildew. Tile surfaces with grout lines also accumulate grime and discoloration.
These types of damages can easily be fixed with countertop refinishing. The process involves resurfacing your existing countertops and vanities, then applying a new layer using the custom color option you pick.
Similar to bathtub refinishing and sink reglazing, the revolutionary process of countertop refinishing does not involve any heavy construction or removal costs like you would typically see with full-scale kitchen remodeling projects.
Once completed, your kitchen and bathroom surfaces will have a like-new appearance.
To choose the best custom stone-like color finish for your countertops, simply observe what looks good with your existing cabinets and kitchen color scheme. Many customers like to contrast light cabinets with darker colored countertop finishes.
Stone-like countertop finishes are available in many different styles and colors. You can choose from dark, medium, and light stone-like finishes, or select a solid color. These finishes are available for bathroom, shower, sink and kitchen countertop resurfacing projects.
To learn more about what colors we offer, see our Color Customization options. You can also contact us directly and we'll be happy to help you with your next project.